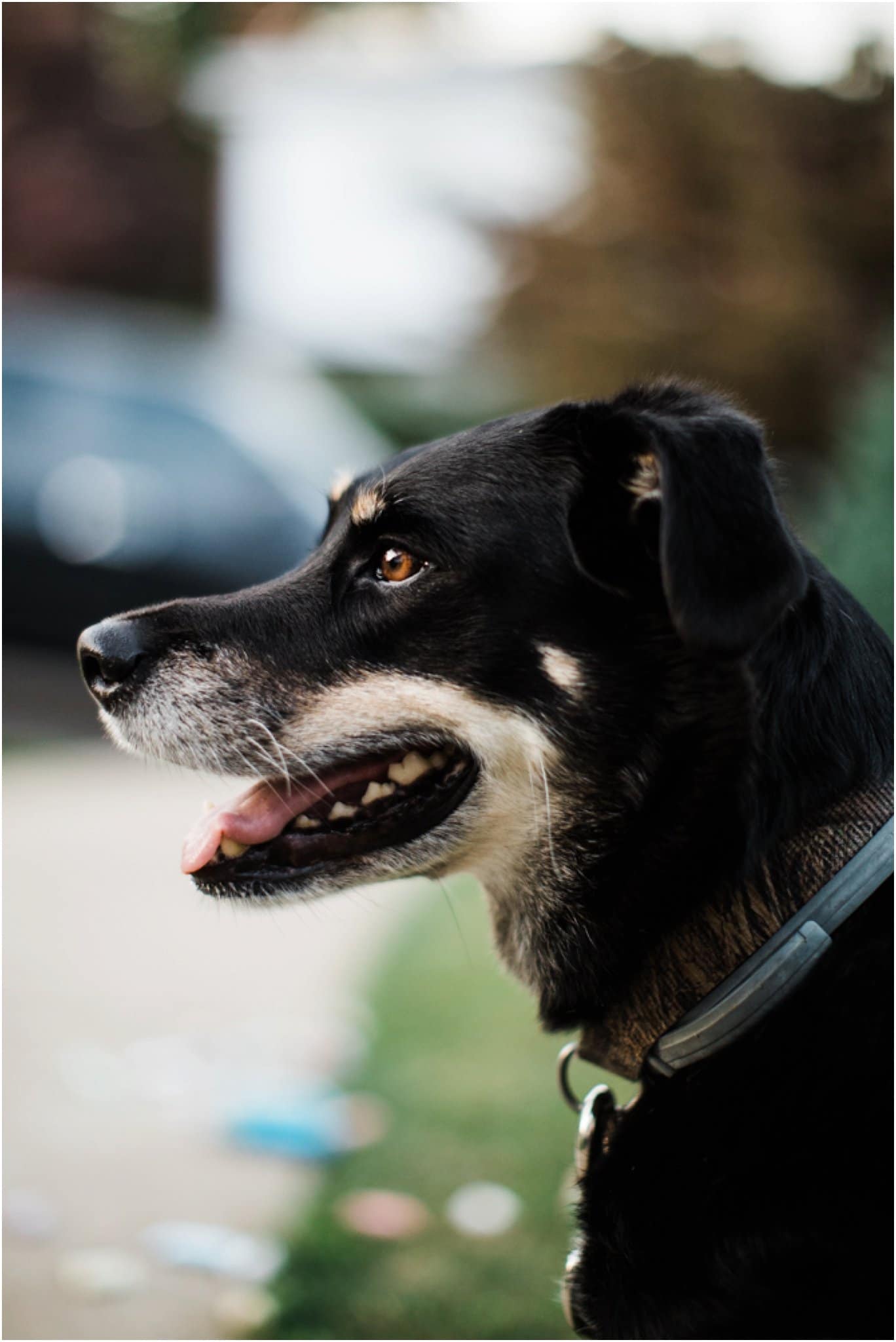 My dad pointed out that our dog, Cody, in so many ways, prepared my husband and I for our parenting journey.  He said that to us in the days after we had to put him down due to an illness that he just couldn't fight anymore. It didn't sink in until a few days later. My dad was so right. We rescued him while we were living in a one bedroom apartment in the Cultural District. We were only dating at the time and in a lot of ways he helped us grow up and learn how to be responsible for something more that us. He was our first child! I know that some people might not be able to grasp that but we are dog people and he was our fur-baby. We loved him like family, because he was family.
Not young anymore, by not old just yet (in dog years), I blissfully ignored any scenarios where he wasn't in the picture for many more years. The girls loved him, I leaned on him, and he was a best friend (and the only other boy in the house) for my husband. He was so important to us all in really special ways.
Writing, though I'm no good at it, helps. When I lost our twins, I wrote about it. When things are hard, I write about them because sometimes it just helps to share, for yourself and for others who might find comfort in reading words that are so relatable. So many of my clients have pets that they love as much as we loved and still love our Cody. So when I get asked if they are 'allowed to be in photos', the answer is yes. Always, YES. Because dogs our family too.
So here we are. It's weird to say, but the house feels a little emptier, and we haven't brought ourselves to take his dog bowls, toys, and beds from their spots. I catch Myra going room to room looking for him sometimes or just playing with his toys. Ava randomly talks about missing him and how she is sad that he's not here anymore. It adds a layer of sting for Chris and I. He got us ready for those girls and that is something I will always be grateful for.
We had eight amazing years with him and for that, we are thankful. But there is so much sadness that comes when you have to say goodbye to your first family pet. We cried.. a lot… and we smiled going through the hundreds and hundreds of images and videos we have to help us all remember him.
I know that they won't be reading this (and we will send proper thank yous) but I'd be wrong to not mention the vets, doctors, and specialists that tried so hard to make him Cody again. Your care means so much to families like mine. And to Lap of Love (and the wonderful Dr. Aspen), you gave us the gift of saying goodby at home. You allowed us to have one last night at the house with him. And when it was time for the girls and us to let go, your compassion and guidance was just what we needed. Because of your end of life care, our pup, that we loved so much, was surrounded by his family and some sunshine on his face.
---
To my fur-baby:
You're running off a dock to fetch a stick from the pond, sunbathing on the deck, stretched out and rolling in the grass. 
You're sprinting with Maggie and Lady now. You're a new friend for the twins. You're another pup for GrandMer to love up there. And I'm 100% sure that Babciu had a slice of cheese in her purse, just waiting for you. 
Buddy, you brought us incredible amounts of happiness. I might not have enjoyed vacuuming the dog hair off the couches but I will never regret pulling you into my lap when you were brand new and breaking that 'no furniture' rule. You helped your daddy and I grow as individuals and as a family. I told your daddy "yes" on one of our Riverwalk strolls. From a one bedroom apartment downtown to a starter home on the Northside, so you could have a better yard, we went. We brought your sister home and you instantly became that gentle protector. Sure you weren't the only child anymore but we had enough love to go around. Enough to grow the family again and you handled it with ease. Our girls love and adore you – they always will. For years, you put up with them. Oh, God love ya buddy. They were loud and brought all the wonderful chaos… but you managed. 
You beat cancer as a pup and I thought we were in the clear with you. Never imaginged a day without you around. So when you got sick so fast, none of us were ready. But you deserve the best and that's where you are now.  
We will miss absolutely everything about you, our fur-baby, first child, best bud. 
For all of the ways that you loved us and made our hearts happy, thank you. 
To the moon, Cody. 
-Mama