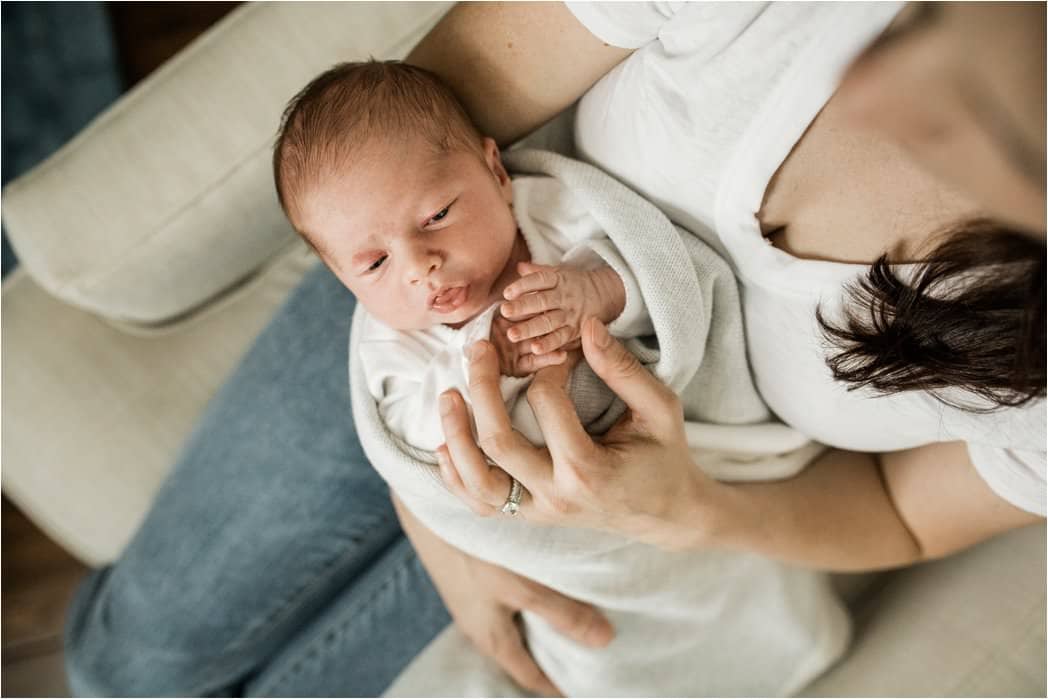 They were back in front of my camera, this time with a brand new baby to love. A favorite family of mine grew by one this past June and to say that I am happy or excited for them isn't enough. These (really amazing) parents already know how to raise a perfect little gentleman… why not grown the family?! Introducing… Baby Samuel.
Baby number 2 can throw you. You fall into this routine and get so used to loving your first with all that you have. It's easy. And then you lay eyes on your second and it all changes. I still remember all of those emotions. (My youngest is nearing her second birthday, and I still remember. You don't forget those things.) Love and the available space in your heart grows like you can't imagine, until it actually does. Knowing that this family is in that phase of life makes me incredibly happy. FOUR looks perfect on them.
The first time we shot in their home, this mama was a bit worried about getting images that look bright enough, in a nursery that can feel a little dark (without artificial/overhead lights or lamps). Ahhhh, I love the light in her home. Like I do almost every time… I walked into their home, scoped out the rooms they wanted to shoot in, and began to open shades and turn every light switch to OFF. Hey, we are not shooting in sunny CA, but that doesn't mean a bright, beautiful gallery is impossible. All it takes is an open window and a whole lot of snuggling on the tiny humans you call yours. Give me all the newborn sessions at home, where it's just easy. First baby, second baby… fifth baby doesn't matter. So, Pittsburgh mamas, I'm ready to get the whole family in moments like the ones you see below.
Welcome home, Baby Samuel. You're loved and it shows!