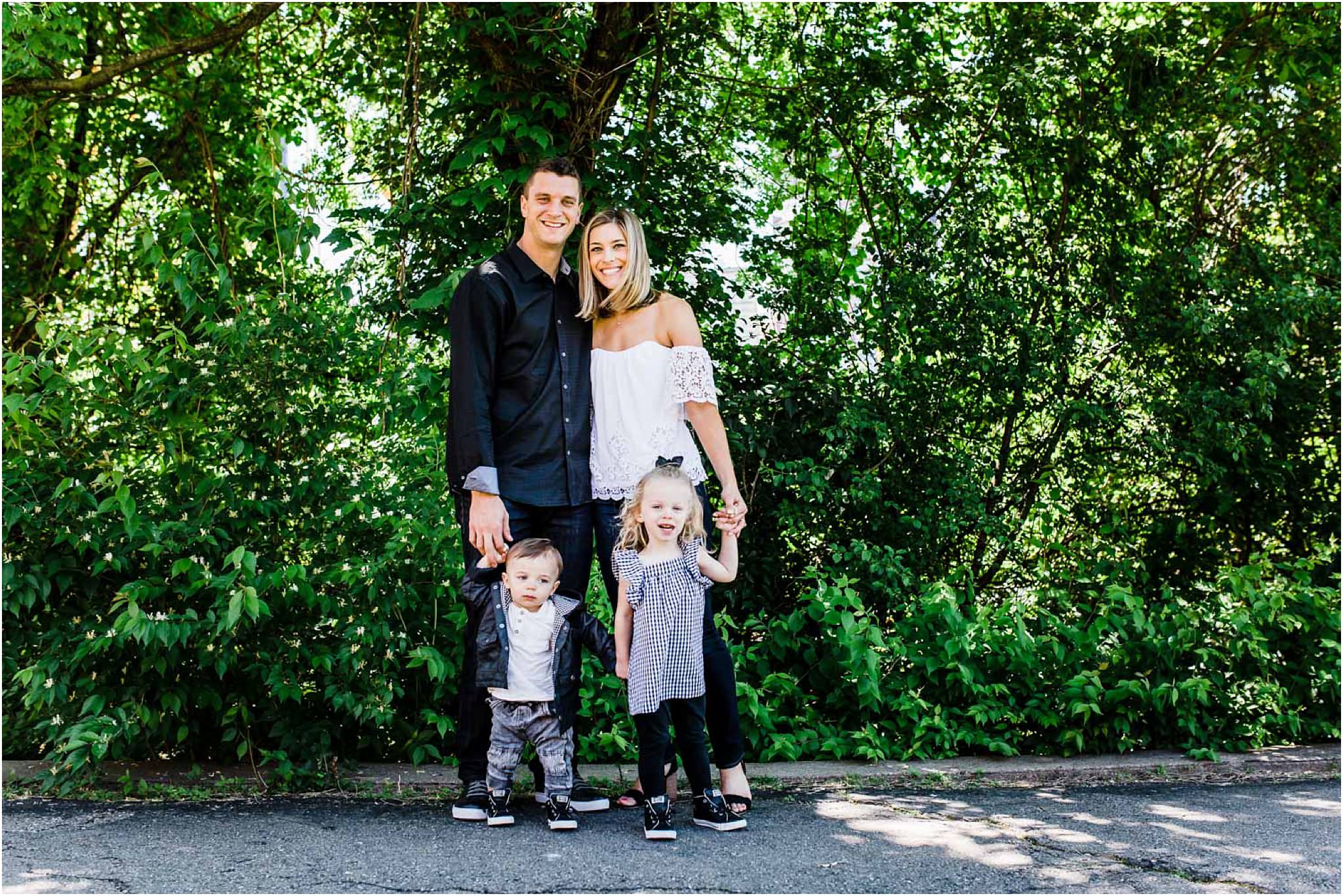 It's no easy thing – dressing your family for a photo session! Often times it comes with a bit of anxiety and some second guessing yourself. Maybe you LOVE this part. Maybe you HATE it. Either way, Here are some of the tips and tricks that I share with my clients to steer them in a direction that will not only photograph beautifully, but will showcase their personalities and keep their images all about their moments.
SHOP YOUR CLOSET FIRST
I can almost guarantee that you have what you need already tucked away in the closets at home. Clothes that you are comfortable in and show off your true style. Everyone feels and looks better because what they're wearing is something that they normally wear. Starting with what you've got will help you to avoid looking like you've tried too hard to style the photos.
SPLURGE IF YOU REALLY WANT TO
If you do wind up purchasing new clothing, make sure it fits your personality and style and consider washing it before the shoot to give it a little softness. Remove those tags too!
MAMAS! CONSIDER CHOOSING YOUR OUTFIT FIRST
So many moms become quickly overwhelmed when thinking of styling their family for pictures. Choose an outfit that you are sure you love and feel good wearing. Then base everyone else's outfits off of those items.
PICK AND STICK TO A COLOR SCHEME
When thinking about what colors to dress your family in, look around your home. What colors are you drawn to? Cooler tones or warmer tones? Neutrals! (I love neutrals!) It's likely you'll have a repeating color in your most lived in rooms. And chances are your images will end up in those rooms, so let them fit right into your home.
*Be sure to keep our location in mind when picking a color! If we are shooting in a park for example that has an overwhelming amount of green, try not to blend in… aka wear too much green!
COLOR, continued…
This can help a photo come alive, but the trick is to keep it to a minimum. If everyone is wearing bright, loud colors, it can be distracting from the people in the pictures and possibly even date the photo.The focus is put back on the people when you tone down the clothing and there are so many great ways to show color without wearing it head to toe.
MIX IT UP
Even though you'll have several actual outfits in the picture, consider it as one well coordinated outfit. Coordinating is key! Aim to dress each person using your chosen color palette in different ways. Play with texture, layers (oh, how I love layers… they photograph so well) and a little pattern.
CLASSICS > EVERYTHING ELSE
On the guys – button downs, cardigans, plain t-shirts
On the ladies – simple and flattering dresses (long and short), tunics, cozy sweaters
On the baby – rompers, simple onesies, *if need be, size down for the session so that they are not swimming, lost in clothing.
NO-NO's
Overwhelming neon colors: these cast that color onto your skin. Did I mention that I love neutrals yet?!?!
Matchy-Matchy: instead, think 'one coordinated look with textures and patterns and solids that tie the family together'
Wash Out: avoid white/light colored tops on fair skin unless paired with layers – cute faces especially should never be washed out.
Logos: I beg you, no! Unless THE GAP is sponsoring our session, leave those big, bold logo pieces at home. The last thing we want is for a logo to steal the attention from a shot you love.
Diapers: Blue lines on diapers showing under a baby/toddler in a dress or skirt is a distraction and a reminder that that diaper is dirty! Little ones don't sit still long and that can be hard to cover up so don't forget those diaper covers!
Over Accessorizing: keeping them to a minimum is often times the best bet. A scarf, jewelry, special watch, hat, belts… all good. Just don't go crazy!
—
THINK BIG PICTURE AND GO WITH WHAT FEELS RIGHT!
Lay it all out on the floor or the bed to visualize the outfits coming together as one coordinated look. Don't like what you see? Go ahead and change things around until you LOVE it. If you're not happy with what you've put together, it could drive you a little crazy when you look at the photos and trust me, nobody wants that. Let your family style shine and you cannot go wrong!
Here are some families who (IMO) NAILED IT!!