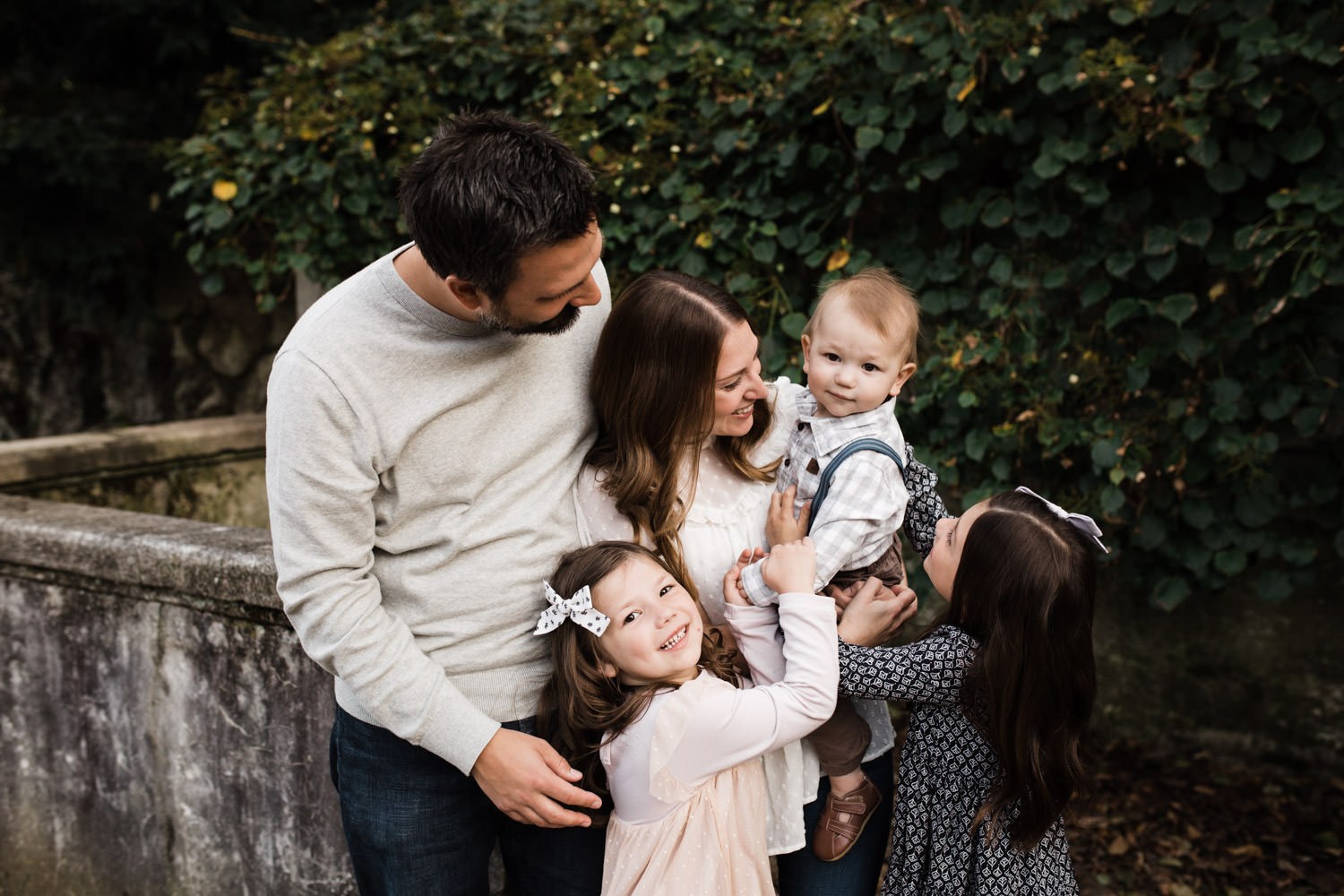 Am I the photographer for your family? Maybe! Maybe not. (And that's okay!) Pittsburgh is filled with talented photographers. Go ahead, Google "Pittsburgh Family Photographer" or something along that line…
See? We are many and that's why finding a photographer to fit your family is so important. You need to click with the person you are putting in charge of telling any one of your family stories. You need to know that you are going to feel comfortable. Chances are you have expectations, so you should find a photographer who can deliver something similar to that vision. (I'd hate for someone who is interested in a "props galore, traditional portrait experience" to book me and find out afterwards that I'm less about perfect posing and more about throwing your arms around your children, laughing with them, and having fun… without constantly looking at the camera with a smile.) So yeah, you need to know that your family will open up and relax around the photographer you choose.
If the little things you love about your family are the things that you fear are going to change too soon, or pass by and get lost in the hustle of life, then I just might be the photographer for you.
First (if you haven't already), HAVE A GOOD LOOK AT MY FAMILY PORTFOLIOS* >>> AT HOME + ON LOCATION
*Do this for any photographer you might be in touch with! A portfolio is a collection that will provide you with an understanding of the kind of images/moments we tend to deliver!



Next, GET YOUR QUESTIONS ANSWERED!
I like to be an open book and very much upfront about what to expect in regard to client experience, pricing, etc.
(I'm a mom. Hi, we have ZERO TIME for any kind of runaround.)

Lastly, BOOK A SESSION AND FIND YOURSELF IN MOMENTS WITH YOUR FAMILY!
I promise, as long as you find a photographer who 'fits' your family, you will NEVER regret existing in images with your favorite, most loved people. 
---
In the spirit of "NO MAMA HAS TIME FOR ANYTHING BUT UPFRONT" I'm answering some FAQ's about family sessions with me in this post!
HOW DO I BOOK A SESSION?
A non-refundable $150 retainer (plus tax) is required to hold a session date/time on my calendar. The retainer is applied to your balance – due two days prior to your session. I book sessions on a first to contract basis, so it's never to soon to hold a date and time on my calendar.
DO I HAVE TO PAY TAXES?
All of my sessions and products are subject to 7% PA Sales Tax. I include tax when sharing all pricing, in an attempt to be even more upfront about your total investment. No surprises, anywhere!
WHAT IF I NEED TO RESCHEDULE?
Life (and rain) happens, so I try to leave some wiggle room each month! If we need to reschedule for whatever reason, we will agree on a new session date and start time based on my remaining availability.
HOW MANY IMAGES WILL I RECEIVE?
On average I deliver anywhere from 50-100 images. Select black + white images are included in that total.
WHAT TIME SHOULD WE START A SESSION?
Oh this is an important (loaded) question! It truly depends on WHERE we are shooting. In home sessions have a little more flexibility, because we are shooting the majority of the session inside your home. mid-day hours aren't off the table. This is NOT the case when shooting outdoors. Again, much of the WHEN depends on the WHERE, but a safe starting point is this:
MORNING SESSION – start right at sunrise or ~1 hour after sunrise (when shooting in areas with little shade). If we are shooting Downtown or another spot with lots of cover, ~1-2 hours after sunrise works!
EVENING SESSION –  start ~1 1/2 hours prior to sunset (when shooting in areas with little shade). If we are shooting Downtown or another spot with lots of cover,  we can look to the late afternoon hours to increase flexibility!
I want you to be happy with your images so I try to steer families to start times that are most flattering. That said, I get that little ones have routines/schedules and in certain times of the year, when sunset is after 8PM, that can be tough. Flexibility is what you'll get from me but I'll ask for a little in return!
HOW LONG DOES A SESSION LAST?
Plan on your session lasting about an hour if we are shooting on location, and up to 2 hours if we are shooting in your home.
WILL YOU HELP ME WITH WARDROBE?
I absolutely share wardrobe tips with clients and could not be more excited to offer access to a COMPLIMENTARY STYLING SERVICE!!
CAN WE INCLUDE THE FAMILY PET(S)?
Heck yes. You're talking to a mama who before her baby girls, only had time for Cody… our fur-baby! I always do my absolute best to photograph everyone with their four-legged family members (#dogsarefamilytoo – cats too, but my husband is allergic so, we're definitely dog people!).
That said, I like to set expectations and go into a session with a plan when animals are involved (especially on location). Either way, don't skimp on the treats, because I can almost guarantee, we will use them… all!
WHAT IF MY KIDS AREN'T COOPERATIVE?
If they are, I'll just site back in awe for a minute or two, haha. This is a great time to remind you that I have two at home that always have plans of their own. During a family session, I love for kids to be… kids! I ask that parents sit back and allow things to flow naturally without out too much forcing anything. Sometimes, it takes some extra patience, which I just so happen to have! I get down on their level and have a few tricks up my sleeve.
CAN GRANDPARENTS TAKE PART IN THE SESSION?
Please – YES! Short and sweet. Yes. Always!
*If you are adding in another family… that turns into an Extended Family Session in my eyes, which I do offer!
WHAT SHOULD I EXPECT DURING THE SESSION?
I start each session by going after that 'traditional family photo', where everyone is looking my way (and in a perfect world… smiling)! No more than 3-5 minutes on this shot though, because there are (in my opinion) more important images. The rest of  your session is all about beautiful, messy, imperfect, emotion filled moments. I will help you fall into positions that encourage natural family interactions… you just enjoy some family time.

WHAT SHOULD I EXPECT AFTER THE SESSION?
Give me about 24-48 hours to generate a preview or two! I generally delivery full galleries within 7-10 days of the session. You will receive and email with a link to your gallery as well as a one-click download of all of your hi-resolution images. If we didn't already talk about print and product add-ons, I'll send an email with a link to your sample album and other options before your online gallery expires (3 months after you receive your full set of images).
It will never not blow my mind that I get to do this for a living – preserving all the love that lives in a family. It's awesome and humbling. Documenting a time that is going to pass by sooner than anyone wants to admit… yeah, I get to do that and I absolutely love it.